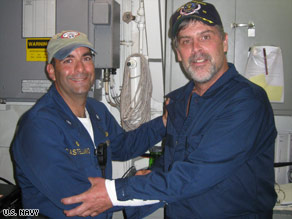 *UPDATE – Ok, my fantasy of, one day, being able to escape pirates by flipping off the end of a liferaft is now completely dead. This in-depth account confirms that "after snipers, positioned near the fantail of the Bainbridge less than 30 yards from the lifeboat, determined that one of the pirates was aiming an AK-47 at Phillips's back, they opened fire, killing three pirates."
Throughout this whole crisis I kept thinking to myself, if I was to be held hostage, the place I'd most like to be is on a life raft (with Navy SEALs in the vacinity). If push came to shove I could jump overboard (machine guns don't fire as well underwater). That was until I found out that this was no dinghy, but a "28-foot covered" lifeboat, where getting into the water involves more than just falling backward.
Apparently that was no barrier to Capt. Richard Phillips, who today escaped overboard. Navy SEALs then shot three of his four captors. (CNN reports this sequence of events, even if the Times doesn't, and it's the one I prefer.) Earlier in the day, the fourth pirate, scared after the Navy fired warning shots, jumped ship himself…into U.S. custody. Negotiations between the U.S. and a group of "elders" representing the pirates broke down on Saturday. Phillips is now safe and sound aboard the United States Navy destroyer Bainbridge.
The NY Times quotes a pirate on mainland Somalia:
One pirate named Ali, in Galkaiyo, Somalia, said the American Navy rescue won't discourage other Somali pirate groups at all.

"As long as there is no just government in Somalia, we will still be the coast guard," he said, adding: "If we get an American, we will take revenge."